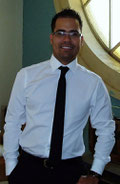 At the back of the manse (the church house) a nine house development is taking place on what used to be a school and then became a play ground.  It consequently closed to the public as it was not built properly.  Having the open space at the back of the house was one of my great pleasures, as I could, from my bedroom window, have a peek onto London.  That pleasure has long gone as the three stories houses are now being erected to occupy the empty space that I love so much.  
The main structure has now been completed and as they work on making the houses a beautiful and liveable place, the whole structure is surrounded by scaffolding making it look a mess and unattractive.  That view made my mind roll back to something that I once heard, "love me when I least deserve it, because it is when I need it the most."
It doesn't only sound good but it is true too.  John said "This is how God showed his love among us:  He sent his one and only Son... This is love:  not that we loved God, but that he loved us..." 1 John 4.  We didn't deserve God's love but He offered it to us.  We needed it.  God created everything we know, but he unveiled His heart when He sent His only Son.  His love was the initiative to send Jesus to us, so we could find life in Him.  When you or I get an understanding of that love of God, it cannot go without changing our lives and behaviours.   Change doesn't happen at once, but it is a process, a process of building up.  And like the houses that are being built at the back of the manse, we might not look that attractive.
But that process is not just happening in us but in many others around us. Others might be where we once were, a closed park, not in use waiting to be developed into something beautiful, useable and new.  Whichever place they are, once we are touched and inspired by God's love, we are called to show the same kindness and love towards others.  Only true love can be given when we experience God's love in our lives.  As God's love was the initiative to send his Son, let that very same love we claim to have be the initiative to overcome the barriers that divide us and love one another. 
Don't look at the scaffolding that surrounds me as the Lord works in me but with his love see beyond at the beauty of His work in me.  I promise by His love that I will do the same to you.  Let this be our statement for this coming year, as the Lord builds us.