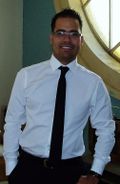 KALI
The heat in Dakshineswar city near Kolkata on this sunny afternoon is more than my English companions can tolerate.  Pastor Khan leads the way to the Kali temple.  He is taking us to a temple priest, so we can enter. The priest tells us that there will be a charge for the favour, which he likes to call offering.   Kali means lord of death.  She is revered as "redeemer of the universe" and is often seen standing on her husband, Lord Shiva.
The temple has a majestic architecture.  As I stand there taking in the sight before my eyes, I get the sensation of a place that was once in its full splendour but today stands on what is left; on the pride of those great memories; still accepting the venerations offered by those who pilgrim hundreds of miles to visit Kali at her temple.  The priest now leads the way as pastor Khan retreats to the back of the group.
As we stroll through the temple which then becomes more like a small city, I can see how the small population which resides in this small, smelly and dirty city lives; a city which demands that her visitors and habitants remove their shoes while they are within her ramparts.  One particular lady catches my attention.  She is senior, short hair from what I can tell and may be disabled.  Her fragile body lies on a dirty, smelly, floor that is divided by a stream of water coming from somewhere behind a pair of doors not far from her.  As we walk passed her I cannot stop staring at her, my body moves forward but my eyes stay with her.  Even today some years later I can still see her there.  "Francisco!"... Kenneth calls me out of my trance... "Man what is it with you?  You seem a bit disconnected." Kenneth remarks, and says..."Listen we cannot see the inside part where Kali is, she is eating and the doors are closed."  He continued... "We missed the sacrifices and now we can't see the statue...what a waste of time!"  She is eating!  I can almost scream inside me, the goddess is being fed while the lady on the floor dies...
TERESA
As we cross the doors there is nothing majestic about the architecture, or signs of a former glory.  The place is peaceful.  We are told by a small gentle lady that soon people will come, they are eating and resting. Inside these walls there is not much space; it is like a big house, not a small city.  There are pilgrims from all over the world.  They turn up every morning and afternoon to help.  For a day, a month, a year, a life time. There is not a god to see; it is the fragile, old, ill, hopeless people which are lying on top of small, simple metal frames with leather cover mattresses, dressed with a one-thousand-times-washed sheets.  The focus is not on any god or in how beautiful the place is.  The focus is on the people lying on the beds, which have nothing glorious about them either.  'Let's make the man to our image.'  It is quoted in the opening lines of the Bible.  I can see that image right here in front of me.  
No matter if you are rich or poor, white or black, literate or not; all that matters is these who need help.  Putting aside all that divides us and putting on what unites us as the motive for being there; giving care, love and mercy for one another.  Outside an old figure of Christ being crucified hangs from the top of the big house; to the view of the world a face of hunger, thirst, pain while he is being humiliated.  Inside there is a different story, all those on the beds are being honoured.  This is the former abandoned temple to Kali. This massive structure have been split in two making the two halves face away from each other as if each half didn't exist to the other.  Kalighat, the Home of the Pure Heart, a hospice for the sick, destitute and the dying, was established by Mother Teresa.
Despite the obvious pain, lack of hope and severe suffering experienced by those inside these walls, they can't see God, they can experience HIM.  They are not outside lying on the floor while God is inside being fed.  They are inside being look after, while the image of Christ is outside hanging from a cross.
So you received the message with joy from the Holy Spirit in spite of the severe suffering it brought you.  In this way, you imitated both us and the Lord. 7 As a result, you have become an example to all the believers... And now the word of the Lord is ringing out from you to people everywhere. 1 Thes. 1:6-7
His message brings faith, hope and love and all these three things produce Joy.  He doesn't take from us He gives.  By allowing others to experience God in you, as you do faithful works, lovingly, with the hope that even when we know that our knowledge is partial and incomplete now, He will lets us see everything in perfect clarity.  With the joy produced by faith, hope and love we could confront suffering.