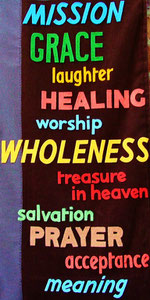 The next 1440 minutes
For the next 48 slots of 30 min throughout the day different people in different places will be praying like one body, the body of Christ. Despite the difference in location and time, we will be united by one common goal that is coming together to worship our Lord, as we stand in the gap.
What to pray
The bible says that we don't know what to pray for but that the Spirit does and therefore He leads us. Here are some prayer points to start our time of prayer but if you feel the Lord is leading you through His spirit to focus on something else feel free to allow him to guide you as you spend time praying.
Where to pray
Where to pray is a question that I get asked a lot, ideally it would be better if you could find a quiet place for the next half an hour to focus on the Lord and the things you are praying for, however, if this is impossible to do praying while you do your duties is possible too.
How to pray
Many people don't know what to do when they dedicate a time to pray so here I give you a suggested guide line for the 30 minutes you will be praying.
Opening:
It is always good to focus our minds and thoughts on what we are about to do, and what better way to do that than to read a Psalm, don't rush it through take your time as you read it, once you finish come back to the parts that are of most interest to you and ponder on those words for a moment.
Opening prayer:
As you might do when you see a friend you start by greeting each other, the Lord is our Lord and Father but He is also our friend, take a moment to say hi, to tell him how you are feeling, how are you, how are things, it's like having a coffee with someone you love and trust.
Song:
Not many people can sing, me being one of those; but if you can or feel comfortable doing it sing a song and worship him alternatively you can listen to a worship song and just enjoy the song as you listen or sing.
Prayer:
By now you should feel more at home, so take the list of prayer and pray for the points given to you at the back of this booklet if you feel at any point the Lord is leading you in a different way don't worry and follow his lead.
Deacon's weekend away
The deacons will be going away from the 24th to the 26th Feb to seek God's guidance for this coming year
  Vision, unity, wisdom, fire of God in them and strength for the leaders
Milton, Joyce, Mabel, Elaine, Melinda, Sister B, Yvonne, Deji, John, Pastor Francisco
Church 2012
As from 1st March Pastor Francisco will be working part time, Thursdays, Fridays and Sundays only
Pray for the Leaders of the church to work together during these coming months.
For Pastor to find a balanced routine that allows him to fulfil his duties in and out of the church.
Baptisms
March will see once again our baptismal pool open to welcome new disciples who will immerse in the waters to obey and to follow our Lord Jesus.
Pray for those whom the Lord is calling to follow him, so they can have the courage to obey him; for the baptismal classes to go ahead without many disturbances. Pray for wisdom, love, and guidance for those who are leading the classes.
Deji, Elaine and Milton, will be leading the classes
For those in Hospital
In the last few weeks and months some of the members of the family here at Clapham have fallen ill and are currently in hospital.
Pray for Pauline who has been struggling at hospital for several weeks now, for her to recover so the desire of her heart to come back home becomes a reality.
Pray for Vicky Woodman who after two heart attacks is gently recovering in Hospital. Pray for her as it is yet unknown the condition of her brain after she struggled for around 30 min during the second heart attack.
Around the world
Nigeria is suffering from a harsh wave of violence especially on the northern region of the country in which hundreds of people including children have been killed. Those who are being targeted in its majority are Christians.
Pray for endurance, peace and tranquillity among those suffering persecution because of their faith.
London
We have been called to stand up in the gap to intercede for the city where we live and its peace
Pray for the different aspects of our city, maybe news that you have heard that has caught your attention or a particular situation in the area where you live, allow the Holy Spirit to guide you.